Technology and Virtual Reality in Teaching - The Challenge of the New Century
Keywords:
Online teaching, digital technology, internet, pedagogical method, pupils / students, educational system
Abstract
The COVID-19 pandemic has changed the education way of function for millions of people around the globe. Isolation measures because of the Covid-19 pandemic, brought, among other things, new and previously unexplored challenges in the teaching process. Teachers, pupils, students, and parents faced the need to align learning needs with technological innovations, turning their homes into a separate school for all. They had to adapt a physical environment to their homes, to avoid distraction. Moreover, they had to better manage their computer time, as well as use new ways of communication with teachers or educators, especially when they needed help. On the other hand, the pandemic served as a reflection period for all individuals and researchers in the field of education, to understand how much youth and education systems must cope with to encourage the application of online educational assessment of learning instead of classroom traditional assessment. In the framework of pedagogical methodology that offers a study, we have tried to show the importance of adapting the subject to online teaching (ratio of theoretical and practical part within the subject), curriculum design and development and teacher profile. Valuable information is also provided on how these challenges can bring much-needed innovation to education, given the digital approach and new online methods used in response to the crisis, best practices from Member States, including new and existing teaching resources, etc., that address current challenges and to be used by teachers, other education professionals and the public. Albanian schools joined this initiative and shared their valuable experiences with European colleagues. Adapting to online teaching tools, the Council of Europe joined the efforts of the Albanian authorities by preparing the Albanian version of the manuals for teachers, who should be provided with knowledge of the use of ICT equipment, to manage any situation, adaptation to the changes of time and threats of nowadays.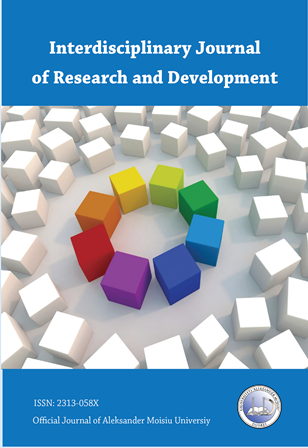 Downloads
How to Cite
Sota, J. . (2022). Technology and Virtual Reality in Teaching - The Challenge of the New Century. Interdisciplinary Journal of Research and Development, 9(3), 11. https://doi.org/10.56345/ijrdv9n302
License
This work is licensed under a Creative Commons Attribution-NonCommercial 4.0 International License.