Albanian Language in the Comprehensive Dimension of Education
Keywords:
Albanian language, teaching, learning, comprehensive dimension, education
Abstract
Albanian language is taught to Albanian schools all over the country, in Kosovo and it is taught and spoken outside the borders of Kosovo where there are Albanian, in the territory between Skopje, Gostivar, Tetovo and Dibra, in Presevo, in Bujanovac and in Medvedja, in Kraja, in Ulcinj with circles up to Bar and Chameria. Through immigration Albanian language is taught in countries where there are Albanian immigrants in Italy, USA, Germany etc. This paper seeks to make an analysis of Albanian language in the comprehensive dimension of education. Teaching and learning in the subject of Albanian language in schools encounters various difficulties. This paper will address these problems and strategies that teachers use to overcome the difficulties in this subject. Increasing the quality of teaching is related to all the factors and actors that influence Albanian teaching. These factors are always evolving and the main requirement is the proper functioning of these factors, cooperation between them, selection and adaptation according to the level, requirements and goals that are required to be achieved and that must be such as to be feasible and objective. This paper aims to present the main problems of teaching and learning in the subject of Albanian language in lower secondary education. The paper will focus on the following objectives: First, to identify the real situation of teaching and learning the subject of Albanian language. Second, the paper will also present some suggestions for the process of teaching and learning the Albanian language. The paper is important because it first presents an issue which needs a broader study than this paper. Nowadays, there are more and more problems that children have in the subject of Albanian language and therefore it would be recommended that these problems be traced to their origin.
Received: 10 January 2022 / Accepted: 21 March 2022 / Published: 30 March 2022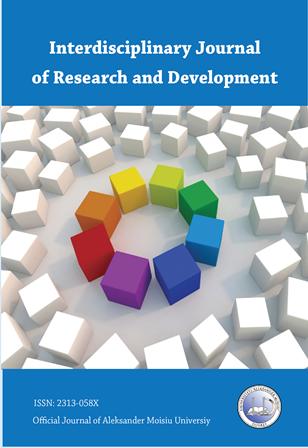 Downloads
How to Cite
Basha, J. (2022). Albanian Language in the Comprehensive Dimension of Education. Interdisciplinary Journal of Research and Development, 9(1. S1), 48. https://doi.org/10.56345/ijrdv9n1s108
License
This work is licensed under a Creative Commons Attribution-NonCommercial 4.0 International License.